Prepare Yourself For an Amazing Online Education Experience
Online education is truly the future, but a lot of students are still skeptical. They worry that they're going to miss out on something that supposedly can only be found at a land based college or university. However, that's not the case anymore. The rise of technology in general has made the online education experience truly incredible. Want to hear your professor's voice? You can listen to an audio set of lectures, or tune into a streaming video. If you want to have a live conference with your professor to get questions answered? You can do that too.
But the key here is to make sure that you are truly preparing yourself for a great online education experience. It doesn't happen automatically, especially if you're super skeptical. To get started, you really need to faced what coursework you're going to take. Trying to decide what path of study to take at the last minute is going to end up being disastrous. Anyone can tell you that anything done at the last minute will be done under intense amounts of pressure. Is that really how you want your education to start? You want to be able to settle back, learn a few things, and move your education forward.
For example, if you have an interest in helping people to make the right health and nutrition choices and would like to become an advocate within your community, earning the Master of Science in Nutrition Education makes the most sense. This degree is useful because it helps you to turn your passion for nutrition into a full-time career in as little as 24 months. If nutrition is your passion, it would not make much sense to take courses in any other field, since you might lack the motivation to complete your program and pursue your new career.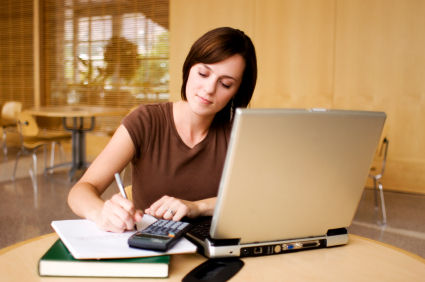 Be sure that you're always thinking about questions to ask. Just because you can't see your professor doesn't mean that they will completely ignore you. Indeed, today's college and university professors want interaction from their students. It's the only real way to know whether you're getting anything out of the lessons or if you're just kidding yourself. Your grades will play a role into this, but the professor knows that some of the coursework will be aided by resources you can find online. The discussions are important so the teacher knows where you are in terms of overall knowledge of the subject.
It can be difficult to get used to not having people around while you're learning. However, the discussion board will usually have a private space that you can use to connect with other classmates. Sometimes introducing yourself and mentioning the struggles that you're going through can lead to a good friendship where both of you are helping each other out.
Finding where you want to go is hard, but it's very worth it. If you're interested in finding out a lot more about the online experience, check out online.bryantstratton.edu. This is an online college that has plenty of information on not only online education in general, but what you can really expect to get out of attending their school.
Making the right choice to go back to school can be difficult, and the road to entering college isn't easy whether you go online or not. But one thing is certain: you will come out of the experience with something that you can rely on for the rest of your life: a good degree, of course! Check it out today, while it's all fresh in your mind!